Are you on the hunt for the best ways to achieve your Reiki certification?
Maybe you're a hypnotist or a life coach and are looking for various ways to serve your clientele better. Or perhaps you're interested in learning how to heal for yourself and your friends.
You might feel overwhelmed by the abundant amount of different Reiki training courses on offer. Maybe you're not entirely sure which Reiki training you should take or how it works.
Luckily, the following article will answer all of your questions and more. We have also taken the time to list out the best Reiki certification courses where you can learn to master this notable Japanese healing technique.
In this article, you will learn:
What is Reiki?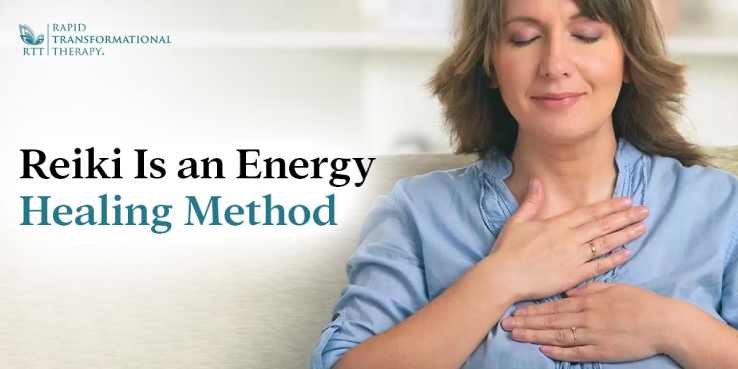 Reiki is an energy healing method. This practice dates back to the 1920s in Japan. Mikao Usui discovered this technique and taught Reiki to over 2000 students before his death. Today, this system has developed into the modern Reiki practice that is used all over the world.
Through Reiki, the practitioner targets energy fields across the body. This involves the practitioner lightly placing their hands on a part of the client's body for two to five minutes. There are 20 different areas on the body where this technique can be performed.
Generally, as the practitioner holds their hands lightly on their client's body part, an energy transfer occurs. During this process, the practitioner may feel warmness and tingling in their hands. They stop when they feel the energy transfer has been completed. Consequently, the client experiences improved energy flow.
This method eliminates any energy blockages which often lead to illness or pain. In a way, this is very similar to how acupressure and acupuncture work.
In the United States, 1.2 million individuals participated in Reiki or similar therapies in 2007. While often considered a bit of a "woo-woo" topic, the data tells a different story.
A 2017 study in the Journal of Evidence-Based Complementary & Alternative Medicine indicated that Reiki is more effective than a placebo.
Researchers further stated that Reiki worked by activating the parasympathetic nervous system. Also known as the "rest and digest" system, it is responsible for decreasing psychological and physical stress, and enhancing healing and relaxation.
Reiki benefits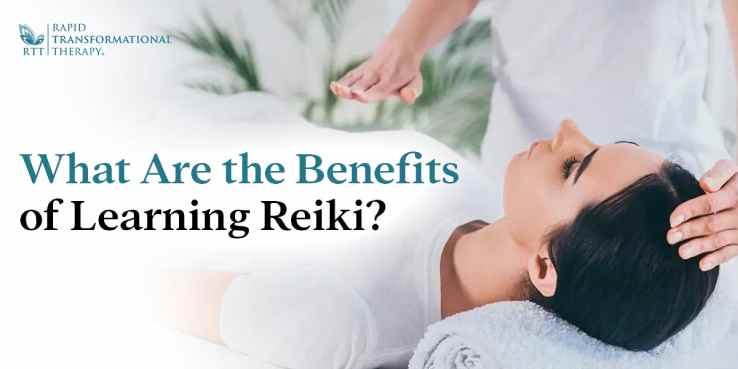 So, why is it good to learn Reiki? What are the benefits exactly? How can you use it in your everyday life or in your practice helping others?
Research demonstrates that Reiki can help alleviate pain. In a 2015 study including participants who were receiving cancer treatment, after 30 minutes of Reiki treatment a day for five days, these individuals reported reduced pain, lower anxiety, and improved energy levels.
Additionally, a study conducted in 2018 also showed how Reiki can lower pain levels in individuals with lower back pain. This study actually compared Reiki to physiotherapy. While both methods were found to be very effective, Reiki offered a more cost-effective treatment. In some cases, it even worked faster than physiotherapy.
Reiki experts have further demonstrated the use of this treatment for depression. A 2010 study examined older adults who reported experiencing depression, anxiety, and pain. With Reiki treatment, these older adults had improved physical symptoms, improved mood, and better overall wellbeing.
Evidently, there are many positives to Reiki training and treatment. But are there side effects of Reiki?
Generally, there aren't many downsides to Reiki. However, some individuals report awkwardness or discomfort during a session. This is often because a client must hold still while the practitioner is working on them. Others have said they feel overly tired after. However, this can be attributed to their body's healing mechanisms working.
Reiki is a wonderful tool to add to an existing practice or to help you jumpstart a new career. It can help you help others better and expand your horizons.
How to Choose the Best Reiki Training & Reiki Certification
Similar to learning other alternative therapeutic modalities, such as Emotional Freedom Techniques (EFT), Reiki certification and Reiki training isn't regulated. However, there is a push for it to become a regulated and licensed profession. As such, some reputable companies offer their own licenses or certification.
Most Reiki training programs or schools have beginner, intermediate, and advanced level Reiki courses.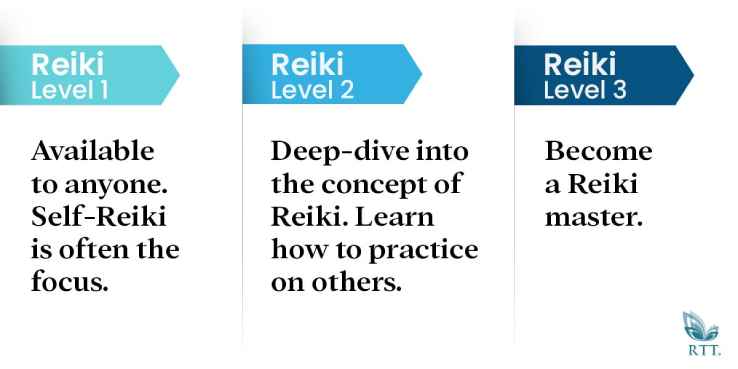 Reiki Level 1, also called the first degree or Shoden, is available to anyone. Most often, self-Reiki is the focus at this level. You learn how to connect to the energy channels and how to implement this practice on your own.
Reiki Level 2, also called the second degree or Okuden, dives deeper into the concept of Reiki and how you can practice it on others. At this level, you also receive Reiki symbols to work with clients on distance healing and send Reiki energy to the past, present, and future situations.
Reiki Level 3, also called the third degree or Shinpiden, often involves becoming a Reiki Master where you can teach others about the practice of Reiki. However, Level 3 is sometimes divided into two levels—Level 3 Shinpiden and Reiki Master Level, since some individuals aren't yet comfortable "attuning" others to the practice of Reiki.
Generally, a beginner class may cost about $250. Meanwhile, a Master program may cost closer to $1800, depending on where you go.
Online versus in-person Reiki training courses.
Your choice may depend on how you intend to practice Reiki. If you want to help your clients online, learning online may prove to be best.
Some Reiki practitioners firmly believe Reiki can be performed only in-person. However, this is a debatable point. Furthermore, when you opt for online training, you have more options when it comes to choosing your Reiki Master who you will learn this technique from.
You might want to do a combination of online and in-person classes. For instance, you could always start with an in-person class and then move to an online version for your intermediate and Master training programs.
Another important aspect to note here is that you will want to determine whether the courses you take online are live or pre-recorded. While some aspects can easily be pre-recorded, when it comes to asking questions or having a more immersive training experience, a live online training may be more suitable.
So, how long does it take to become a Reiki Master?
This really depends on the training you do. Some courses require a year between your beginner and intermediate Reiki certification. In addition, some may require up to two years between your intermediate and Reiki Master certification.
On the other hand, there are full courses that you can complete within a year or less. Usually, a beginner Reiki training course takes only a few days, such as a weekend, to do.
What Are the Best Options for Reiki Training & Certification in 2022?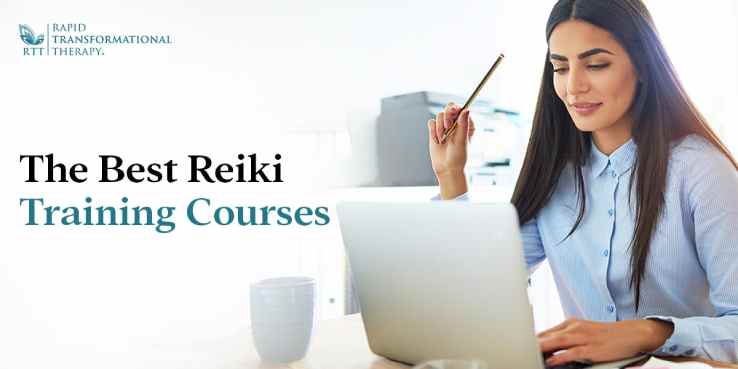 Let's dive straight into our top four Reiki certification courses. Which ones should you be looking into?
Cost: $430 for Level 1 & 2, $1045 for Level 3
Location: In-person in most states and online
The International Center for Reiki Training was developed by Senior Reiki Master, William Lee Rand. Started in 1991, this center is highly reputable and has an array of different Masters and teachers in different states. They also offer online training for those that prefer this method of learning.
Levels 1 and 2 are both taught over a weekend. To complete Level 3, you must have already completed Levels 1 and 2. Level 3 often involves a three-day time commitment.
This organization also offers a ton of extra resources for learning and practicing outside of the classroom. For instance, in the Level 1 & 2 courses, you receive a full 190-page class manual and a 1-year Reiki News Magazine subscription.
Cost: $222 for Level 1, $222 for Level 2, $333 for Level 3
Location: Online
Kat Fowler is a Certified Advanced Energy Therapist, a Reiki Master, and the host of The Soul Awakening podcast. She has taught Reiki students and more for the past decade in New York and online. However, her Reiki Training is available online only.
For Levels 1 and 2, you have 30 days after you enroll on the course to complete the entire training. This also means that you can complete this training within your own time—as long as it is within those 30 days.
For Level 3, you are allowed 60 days from the time of enrollment to complete the training. For each level, you must complete the previous level before it.
If you have taken Reiki Training elsewhere, Kat Fowler requires you to send her your proof of Reiki certification before you can enroll in Levels 2 or 3.
Cost: $195 for Levels 1, $295 for Level 2, $295 for Level 3, & $595 for Master Level
Location: Orange County, California and currently online
Anne Reith has a Ph.D. in psychology and has been practicing and teaching Reiki for many years. In this Reiki training, the teachings are broken up into four different stages.
There is Level 1, Level 2, Level 3, and the Master Level, where you can teach others how to practice Reiki. Each level is a prerequisite for the next. However, there are no prerequisites for Level 1. All training levels take place on one day for six to eight hours. Upon graduation of each phase, you receive a certificate of completion.
Cost: $700
Location: Valley Cottage, New York, or within your home in the tri-state area of New York, New Jersey, or Connecticut.
These classes are run by Susan J. Squittieri who also teaches Reiki practices when it comes to treating animals. Susan has been practicing Reiki since 2006.
The $700 price tag includes beginner, intermediate, and advanced or Master training. The beginner training takes place within one day, over six to eight hours. It costs $175.
The intermediate, or Level 2, training requires you to take the beginner Reiki training at least three months prior. This level costs $225 and takes place over six to eight hours in one day.
Between Levels 2 and 3 (or intermediate and Master respectively), there must be a time gap of six to nine months. The Level 3 training costs $275 and is also six to eight hours over one day.
In addition to achieving your Reiki Master training, Two Bear Healing Arts also offer a Reiki Master Teacher Training course. The prerequisites include the previous three Reiki training levels.
Is Reiki certification right for you?
Generally, choosing the best Reiki training comes down to your location, ability to travel, and whether or not you want to complete your training online or in-person.
However, if you're not completely sold on the idea of becoming a Reiki practitioner, there are various other options. Rapid Transformational Therapy® (RTT®) may be one you want to consider.
RTT® was created by Marisa Peer who is a world-renowned therapist with over three decades of experience. Marisa is also a published author, public speaker, and celebrity therapist.
RTT® combines the most effective tools of Neuro-linguistic Programming (NLP), Cognitive Behavioural Therapy (CBT), psychotherapy, hypnosis, and more, to give you the best way to help others.
This method works directly with the subconscious mind, which allows you to rewrite negative stories and replace them with empowered versions. It puts the control back in your hands.
In fact, RTT® can help individuals heal from both physical and psychological pain, similar to Reiki. You can even achieve permanent results within only a handful of sessions.
As part of the training course, Marisa Peer is also offering live training elements, where you get the chance to meet her in person and practice your skills with the help of her expert training team. This hypnotherapy training is available at a variety of locations, including London, Florida, and California.
Curious to learn more about RTT®? Start exploring the world of RTT® by downloading the training prospectus. Find out if it is the right career path for you.