EFT training is a fantastic option if you are seeking a powerful modality to integrate into your existing practice as a mental health practitioner or a health care provider. It is also a top choice for those seeking new ways to expand their coaching practices, or those seeking a new career that can really make a difference and help others.
Whatever it may be, EFT training & certification provides a professional pathway that can help you upgrade your existing toolkit and open the door to your new professional life.
No matter your reasons for exploring the option of taking EFT training, it is important to fully understand exactly what EFT is, what it can do, and why it could be the perfect choice for your next career move.
In this article, we'll explore:
Let's get started by looking into exactly what an EFT certification is.
What is EFT Certification?
EFT stands for Emotional Freedom Technique, not to be confused with Emotionally Focused Therapy, which also has the same acronym.
EFT Tapping is a self-help intervention and therapeutic stress-reducing technique that has powerful effects. It has been shown to decrease emotional distress and even physical pain.
EFT training has many benefits, including helping your clients restore balance in their life.
Gaining a certification in EFT means you have studied the topic to a high standard, and have passed all the necessary qualifications in order to practice.
Why Choose EFT Training
Emotional Freedom Technique is a modality that is very easy to get into. For the most part, you do not need any prerequisites. This means you can start helping others as soon as possible, without any lengthy and expensive undertaking that a degree or diploma requires.
EFT Tapping therapy is also not a regulated profession. However, there are whispers of it becoming regulated in the future. Thus, it is important to ensure you obtain your EFT certification from a reputable source. This may make getting a license at some point down the road a far easier process.
EFT is an evidence-based technique best known for having phenomenal results when helping people with anxiety, depression, phobias, posttraumatic stress disorder (PTSD), and more. There are over 100 studies demonstrating its efficacy.
With an EFT certificate, you will be able to help your existing clientele with a wider range of tools.
You may also start your own coaching practice revolving around EFT. For instance, a life coach may want to use EFT to help their clients with stress or negative emotions. This may help facilitate the movement towards more positive and productive actions.
You can also choose to only offer EFT and expand a business from there.
Choosing the Best EFT Therapy Training Course for You
The following EFT certification courses are provided by the most renowned and well-known training institutes for emotional freedom techniques.
Many of them, especially currently during COVID, are available online and virtually for your convenience.
This means you can take these courses almost anywhere and anytime, with the exception of required live training attendance and one-on-one mentoring.
The others on our list are available to anyone and everyone. However, they do require quite the investment. You want to make sure you have done your research since you can expect to pay upwards of $3000 or more to obtain your full EFT certification.
If you want to dip your toes into the subject of EFT before committing to a full EFT training program, you can take a free course or one of Udemy EFT courses.
However, it is important to note that Udemy likely will not provide recognized certification, especially if licensing of this profession happens in the near future.
Other Factors
Some other factors you may want to consider when deciding on which EFT course is right for you include your trainers' experience, the length of the course, and what previous attendees have said about the course.
Your trainers' experience is important since they will be teaching you and showing you how to correctly perform and implement EFT.
Ideally, you want someone who is also practicing EFT with their own clients. They should also have an EFT trainer certificate, which is offered by various institutions.
For many intensive EFT courses, you can expect it to take about a year to get your certification. This usually involves actual lectures, as well as mentoring to ensure you are performing EFT correctly. However, there are shorter courses, such as the aforementioned ones on Udemy.
Lastly, when determining which course to take, it is always a good idea to check out previous reviews. What have past participants said about it? How did they find the course? Were there any common complaints?
How do I get Certified in EFT tapping?
How can you become an EFT practitioner? What are the best EFT training programs in 2022?
Below, we dive into the top four programs that can help you further your therapist training, or even give you a ticket into a new profession, and teach you all about EFT Tapping.
#1 – EFT Tapping Training Institute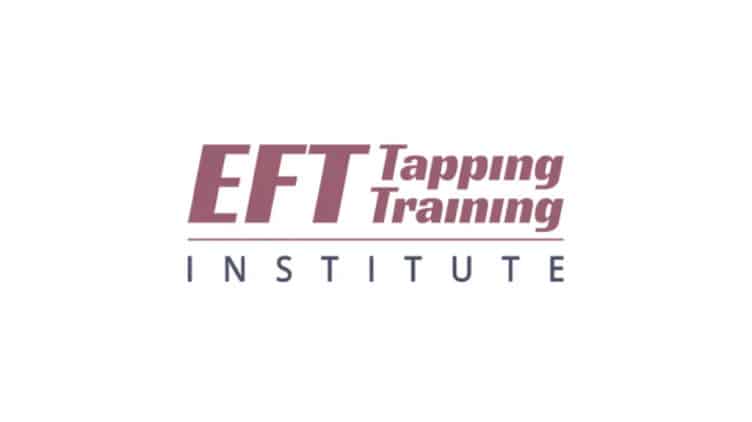 Price: $3000+
Location: Online or In-Person on Select Dates in the U.S., Canada, Australia, and Europe
Program Type: Full Certification
Availability Online: Yes
The EFT Training Institute is run by Craig Weiner and Alina Frank, who are each a Master Trainer of Trainers as accredited by EFT International. They teach hundreds of individuals each year in the U.S., Canada, Australia, and Europe.
They offer a competitive program that begins with an EFT Level 1-2 course. You can easily complete the majority of this course online in a two-day workshop.
The EFT Training Institute has a calendar detailing their course timings and availability, making it easy to plan your EFT Tapping classes ahead of time. However, there is much more to this EFT certification than a two-day workshop.
In order to receive your advanced certification, an intensive mentoring and assessment process is followed. This includes six hours of one-on-one mentoring, passing a multiple-choice exam, completion of 50 EFT sessions reviewed by your mentor, video demonstrations of EFT, and more.
This entire process may take over a year to complete.
With the EFT Institute, you can also receive your EFT trainer level status if you so choose. This allows you to train others on the power of EFT. Yet, you must achieve full certification and contact the institute for a video conference to discuss what this stage entails.
Prerequisites
For the advanced and full certification process, you must begin with the Level 1-2 workshop. Other than that, there aren't any prerequisites when it comes to entering their program.
The advanced level comes after the Level 1-2 workshop, six or more hours of mentoring, 50 EFT sessions, and the EFT risk management course. All this is optional, and it simply advances your EFT skills that much further.
The advanced level involves a Level 3 workshop, one video recorded session evaluated by your mentor, and two case studies.
The EFT world is fairly unregulated. Yet, receiving certification from a well-known and reputable organization may help ensure you stay certified or licensed when regulation does take place.
Further, the cost is a big investment. Thus, if you are going to commit to this training, ensure you plan your finances accordingly.
#2 – EFT Universe Training
Price: $3999
Location: In-Person in Florida and NY or Online
Program Type: Full Certification
Availability Online: Yes
EFT Universe provides a variety of EFT courses, some free, and most with no prerequisites. Specifically, their Emotional Freedom Technique Training course begins with four online courses with videos.
There is then a live online or in-person four-day Professional Skills Training, which is offered in the US, Europe, and Australia. However, their current and upcoming trainings are listed as virtual, with in-person trainings currently restricted to Florida and New York due to COVID-19.
After your training, you are connected with an expert mentor. This allows you to practice your skills with real clients, along with a guide.
Upon completion of 40 case histories and the virtual workshop, as well as the Practice Intensive, you receive your full EFT certification, which takes approximately 12 months.
Prerequisites
Some of their advanced courses require you to take another previous course or workshop beforehand. However, this is often only required as you go through the certification process.
In other words, you can not take the mentoring portion before you complete the four-day Professional Skills Training.
EFT Universe's entire process begins when you fill out their application and make your initial payment.
You don't need to be a professional, such as a psychologist or health practitioner, to begin your EFT certification with this organization.
In fact, EFT Universe specifically says in their FAQ section that half of those that complete their certification are licensed mental health professionals, and the other half are from various different careers or stages of life.
This means that if you are looking for a new career within the helping profession field, the EFT Universe's course could be a good fit.
Like most other EFT training options, there is a bit of an investment. Thus, you likely want to ensure that EFT is the right path for you before you commit.
#3 – ACEP EFT Online Training
Price: $2034
Location: Online
Program Type: Full Certification
Availability Online: Yes
The Association for Comprehensive Energy Psychology (ACEP) has a two-part course for full EFT certification. You begin by registering for their online Emotional Freedom Techniques Professional Skills 1.
From there, you must take your Professional Skills 2 course. Both of these phases are typically seasonal, such as taking place in the Winter, Spring, Summer, or Fall.
After completing the second stage, you then must take part in one-on-one mentoring to become an ACEP EFT certified practitioner. This often means that the full certification takes over six months to a year to complete.
Prerequisites
This method of certification is only available to those that have/are:
Completed a master's degree level or higher licensed mental health professionals
A psychiatrist or physician
Nurses specializing in psychiatric nursing
A certified addiction counselor
Licensed chiropractors or acupuncturists
Overall, the ACEP created their EFT program for practitioners who are trained to deal with emotional trauma or distress, or those that deal with individuals experiencing injury or pain.
ACEP limits those eligible to enter their programs since their EFT courses tend to require a sufficient level of counseling skills.
If you are a counselor looking to spruce up your therapy practice or medical practitioner, the ACEP course is likely the best choice for you. This is not only because it is geared toward your specific career, but also because it comes at a much more affordable price tag than other EFT certifications.
Do you need to be certified to do EFT?
EFT is currently unregulated, but there are expectations that it will become regulated in the future. If this happens, this means that you have to have received a recognised and accredited certification in order to practice.
Is an EFT Certification Right for You?
Perhaps you are unsure about making such a big investment. Or maybe you are not entirely sold on EFT Tapping.
Maybe you even want a little more than what EFT can offer you or your clients. In this case, you might find Rapid Transformational Therapy® (RTT®) to be a more suitable option for you.
What is RTT® (Rapid Transformational Therapy®)?
RTT® was developed by Marisa Peer, a world-renowned therapist who has over 30 years experience. Marisa has been named "Best British Therapist" by Men's Health magazine and is a well-known public speaker, published author, and celebrity therapist. 
RTT® combines the best of all therapy worlds. It uses the most effective elements of Neuro-Linguistic Programming (NLP), Cognitive Behavioural Therapy (CBT), hypnosis, psychotherapy, and more to tap into the subconscious mind.
This method helps the client access the root cause of their issues hidden deep within their subconscious mind.
They are then able to discover meaning and interpretations of events that have happened within their life and let them go.
They are also able to rewrite the negative stories with empowering ones and reprogram their mind for success.
It can help heal both physical and emotional pain and create a permanent change in as little as one to three sessions. Many therapists cite RTT® to be the future of mental health care.
Within RTT®, you also learn business and marketing skills to build a busy practice. This can help you get started with setting up your business or growing it.
Also, as part of the training course, Marisa Peer is also offering live training elements, where you get the chance to meet her in person and practice your skills with the help of her expert training team. This hypnotherapy training is available at a variety of locations, including London, Florida, and California.
Who can Train in RTT®?
You do not need any previous experience or qualifications in therapy to be considered for our RTT® training programme. We simply ask that all applicants have an unshakeable desire to help others, and an enthusiasm to train as therapist. These cannot be taught, but as long as you can show us you are prepared to take on the training, the rest can be learnt with Marisa Peer's in-depth training to turn you into a world-class therapist.
Interested?
Want to learn more about RTT®? Begin helping your clients or future clients gain valuable and permanent results. Start transforming lives by taking that first step toward obtaining your RTT® certification by having a look at our FREE RTT Brochure.